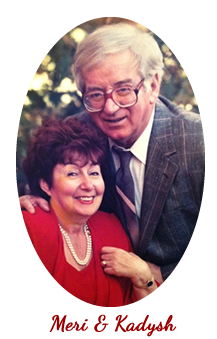 In 1963, Kadysh Goldberg left his country and travelled with his family of four from Poland to the United Sates of America. Like many immigrants, he worked two jobs around the clock to provide for his family.
At first, Kadysh supplied meat to acclaimed restaurants such as L'Ermitage. His old-world artisan skills quickly won the recognition of his customers as the consummate professional, European butcher whose kind nature and attitude would change the foodservice industry forever.
It was not long before Kadysh decided to form his own company to meet the growing needs of the highly trained European-American chefs who were fond of his artistry.
In 1971, K&M Meat Company was born. Named in honor of his partnership with his beloved wife, Meri, the company began to grow as word spread quickly about the charismatic Kadysh and his dedication to his art form. In the years that followed, Kadysh grew his business into one of the industry's foremost restaurant service providers.
In the summer of 1977, Felix Goldberg joined the family business on a part-time basis in an effort to provide his father with some weekly time off. Within two years, the father-and-son team expanded K&M's clients to include fifty restaurants and a hotel.
In 1983, K&M outgrew its facility in Southern California and moved to the City of Vernon, where K&M's headquarters reside today.
A serious demand for quality food service products in America's favorite resort locations, including Vail and Aspen, Colorado was in effect. By 1996, K&M's second location in Rifle, Colorado was built. Today, our rocky mountain facilities not only service guests that visit the majestic slopes year-round, but our location near the heartlands of America is a centralized platform from which K&M is able to meet the needs of its nationwide customers.